40th Paris to Chartres Pilgrimage

Sacred Heart, hope and salvation of nations
The Paris Chartres Pilgrimage is a three-day walk from Notre-Dame de Paris to Notre-Dame de Chartres, approximately 60 miles.
Pilgrims are organized into groups of 20-60 people, that are referred to as "chapters". The "walk" is through the streets of Paris, and then into the countryside. It can be muddy, rocky, and demanding, but the rewards of such a penitential exercise are eternal. Good sturdy shoes are a must. Each chapter is accompanied by at least one chaplain, who hears confession and gives spiritual direction to each pilgrim who avails himself of the priest's presence. This pilgrimage originated in the 12th century, with interruptions for the various wars our European brethren seem to find themselves in from time to time.

Pilgrims will meet in front of the Saint Sulpice church (until Notre-Dame de Paris is rebuilt) at 6 a.m. on June 4th, 2022, and the journey of faith and foot begins.
From the Saint-Sulpice church (before the fire and until rebuilt, was from Notre-Dame Cathedral, Paris) to Notre-Dame Cathedral, Chartres.
The pilgrims walk the full distance between the two cathedrals, approximately 60 miles, in three days. This involves considerable effort, long hours of walking and early mornings; very good physical fitness is therefore an advantage!
How best prepare the pilgrimage ?
This is the necessary equipment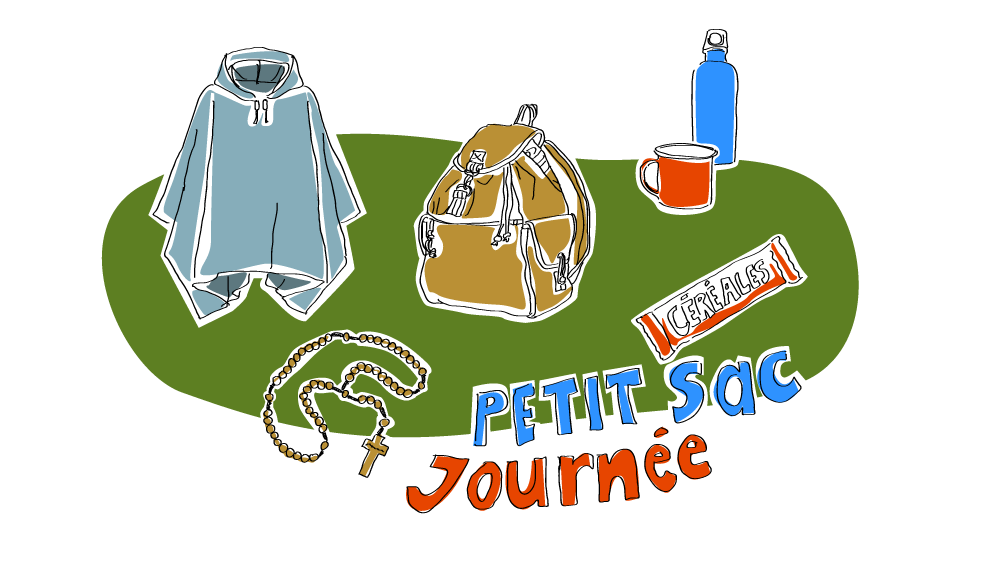 A small backpack to carry throughout, containing :
Food: lunch for the day and energy-giving snacks (dried fruit, salty nuts, etc.)
Waterproof raingear (heavy rain possible!)
Pullover
Water bottle (water supplied) and knife/fork/spoon
Cup for tea/coffee/soup (contents supplied, bring tea bags if tea required)
Hat, to protect against the sun
Pilgrim's Booklet (supplied, containing all the Mass texts, hymns, and other prayers)
Small plastic bag/cover for Pilgrim's Booklet
Plasters and general simple medication (for blisters, headaches, dehydration etc.)
Rosary
A larger bag, which will be taken in the special pilgrimage lorries and which is retrieved each evening, containing :
Food reserves (for remaining meals)
Torch
Warm jumper/garment (cold early mornings)
Change of clothing (a pullover, shirts, trousers, pants, vests, socks)
Light shoes for the evening (good boots recommended for the walk)
Toiletries
Night-clothes
Warm sleeping bag
Personal tent (if you have one) or Groundsheet and mat (for collective tents)
(It is essential that all items are wrapped securely in plastic bags to keep them dry)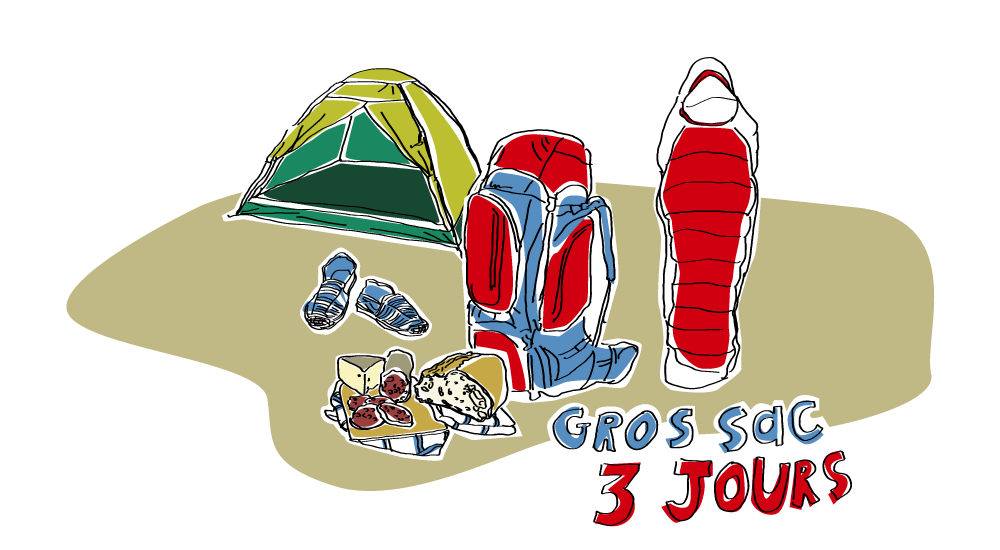 food during the pilgrimage
Notre-Dame de Chrétienté supplies bread and water at each halt throughout the walk and at the evening campsite. At the campsite, hot soup is available in the evenings and breakfast (coffee, hot chocolate and bread and jam) is available in the mornings. Pilgrims should, however, bring their own food with them, enough for three cold picnic lunches and to supplement the evening soup. These should be organised before the walk as there are very limited opportunities to buy anything during the pilgrimage.
Assistance during the walk
Permanent medical assistance is available from the doctors and hospitallers of the Order of Malta, who have an outdoor hospital at each campsite.
Throughout the walk, shuttle buses provide transport for pilgrims who can no longer walk or, in case of emergency, to take them to hospital.
Pilgrims may leave their heavy luggage with the special pilgrimage lorries' teams as soon as they arrive at Cathedral Notre-Dame in Paris on the Saturday morning. There will be a lorry marked "ETRANGERS'. The luggage will be transported by these special lorries to the evening campsite where they can be retrieved under a large sign marked "ETRANGERS" . Pilgrims should not forget to label their bags with their names and contact details and to attach black ribbons to them to identify them as « ETRANGERS ». They are also advised to label all belongings with their name and address.
Evening campsites, aka 'bivouacs'
Notre-Dame de Chrétienté supplies a campsite ('bivouac') equipped with wash-basins (cold running water only), toilets, electricity supply, and some collective tents. The tents are single sex and pilgrims are kindly asked to respect this.
On arrival at the campsite, pilgrims retrieve their large bags, and make their way to the "ETRANGERS" (Foreigners) area where the collective tents will be waiting and where there is space to set up their personal tents.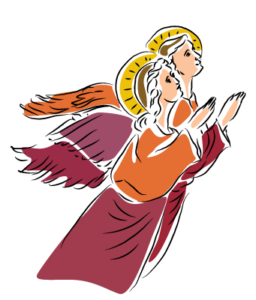 « Guardian Angels » pilgrims
You cannot physically participate to the 39th pilgrimage of "Notre-Dame de Chrétienté" on May 22nd, 23rd and 24th May, 2021 in France ?